AutoTrading permissions are based solely off the trader's experience, trading style, and the level of risk he is willing to take. We cannot advise on which settings are best for any trader. However, we CAN explain what each feature within the AutoTrade setup wizard does.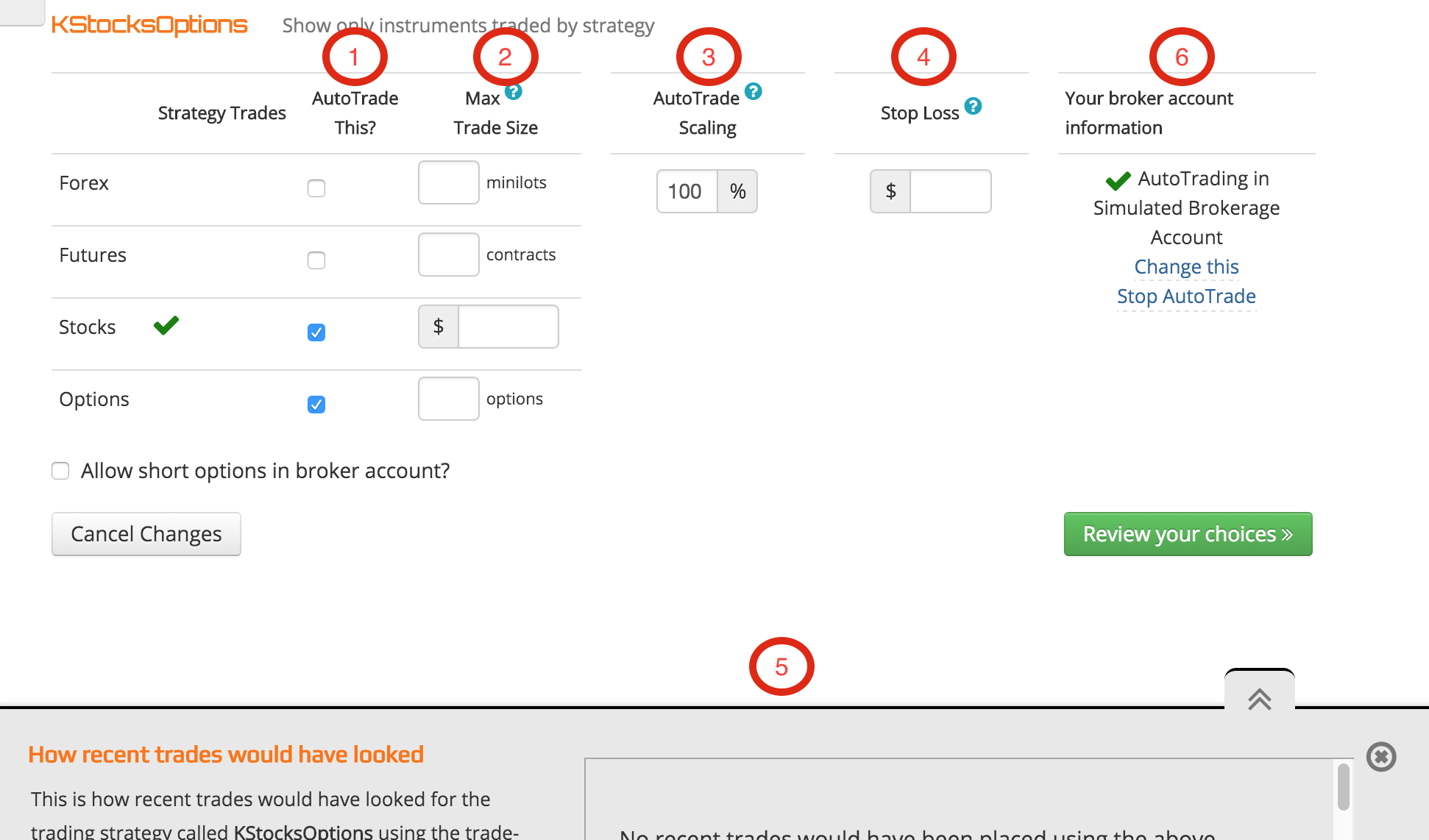 You will be presented with the following fields in the AutoTrade configuration wizard:
1- AutoTrade This (important): The instruments that the strategy trades: Check off the AutoTrade This box for the instruments you want to trade.
2- Max Trade Size (optional): Enter the max amount of contracts/lots/$ amount. The max amount is applied per symbol, per position for the strategy.
3- AutoTrading Scaling (defaults to 100%, maximum=500%): Enter a percentage for how closely you want to follow the strategy. With scaling set at 100%, you will follow the exact quantity of the strategy. For example, if the scaling is set to 100% and the strategy opens a position of 2 mini lots of EUR/USD, we will send a signal to open a position for 2 mini lot of EUR/USD in your account. If you set the scaling to 50%, that will mean that we send 50% of each position to your brokerage account and so on (more examples below). We don't look at how much you have in your brokerage account, we simply send the corresponding signal to your brokerage account based off the strategy and your scaling (and other AutoTrading configurations) 
Example: scaling is set at 50% and the strategy enters a trade for 7 contracts, we would send a trade signal to your brokerage account for 3 contracts. We do not round up because that would exceed your configurations.
Example: scaling is set at 50% and the strategy enters a trade for 1 contract, we would NOT send a trade signal to your brokerage account. We do not round up because that would exceed your configurations.
4- Stop Loss (optional): Enter a blanket stop loss to be entered for every position.
5- Access the pull-up window to see 'How recent trades would have looked' with the current scaling selection. Its an added tool to help demonstrate how the scaling and stop loss parameters work.
6- Selecting Your Broker and Account:
Your broker account information: click on the blue text to Select broker and enter account information. Click Change This to switch from one broker (e.g. C2 Simulated Broker) to another (e.g. Interactive Brokers).
Choose AutoTrade broker for the system: You can select from one of the C2-Preferred Brokers (clicking one of these will highlight it in green) and then click Next Step.
Alternative broker? Click on the Show all compatible brokers link located in the top right corner of this window.
Follow the on-screen instructions to complete the account information section.
If you have more than one broker account, see Server 2 instructions.
Confirm your choices and click the Turn on AutoTrade button.
Live AutoTrading will begin after your broker has approved your account for AutoTrading (which usually takes 1-2 business days). For questions pertaining to the steps above, please contact the Help Desk.